15 August 2020
Stock Market Analysis of Microsoft
Microsoft is the 3rd largest company in the world in terms of market capitalization with $ 1,536 billion (as of July 23, 2020). It has revenue of $ 143.02 billion and net income of $ 44.28 billion for its fiscal year ended June 30, 2020. Microsoft is by far the global operating software giant and IT services. However, is Microsoft's share a value in which it is interesting to invest on the stock market? Learn more about international markets by joining stock market course in Delhi.
Discover the presentation of Microsoft, its news and its competitive advantages, and more particularly the rise of Intelligent Cloud services, which today represent a third of the group's turnover.
Also find our study of the company's offer: its software, digital products and Microsoft services. Then, we will analyze the latest financial results of the group.
Finally, you will observe the incredible evolution of Microsoft stock on the stock market over the past few years, through the analysis of its main financial ratios.
1975: date of creation of Microsoft.
3rd: largest company in the world in terms of market capitalization (July 2020), with $ 1,536 billion in capitalization.
87%: global operating software market share.
X 12: share price growth since March.
MICROSOFT'S LATEST FINANCIAL RESULTS
As of July 23, 2020, the multinational ranks 3rd among the world's largest companies in terms of market capitalization, with $ 1,536 billion, behind Apple ($ 1,610 billion) and Saudi Aramco ($ 1,935 billion) ). Its stock price is $ 202.54. On average, more than 35 million Microsoft shares are traded on the stock markets daily.
Microsoft has just published its results for its fiscal year 2020 (the annual accounts of the Microsoft company are closed on June 30). As a result, the fiscal year 2020 ended on June 30, 2020 and the fiscal year 2020, also known as the accounting year, began on July 1, 2020.
Growth is still there. In fact, 2020 sales amount to $ 143.02 billion compared to $ 125.84 billion in 2019 (+ 13.65% growth).
It is interesting to note that the group is turning to a model more focused on services (Cloud, consulting, software suites outside of operating systems, advertising, Linkedin, etc.).
For the first time in its history, Microsoft's annual results show that revenues from services ($ 74.98 billion) exceeded sales from products ($ 68.04 billion).
Microsoft's revenue from the sale of physical products (computers, tablets, servers, software, etc.) increased from $ 66.07 billion (2019) to $ 68.04 billion (2020), it is therefore up slightly by + 2, 98%.
At the same time, over this period, revenue related to services (Cloud, IA, and other services) increased from $ 59.77 billion to $ 74.98 billion, a marked increase of + 25.44%.
Regarding the net profit for 2020, it goes from $ 39.24 billion to $ 44.28 billion, up 12.84%.
MICROSOFT: SPECIFICS OF THE LISTED IT MULTINATIONAL
Founded in 1975 by Bill Gates and Paul Allen, the American company Microsoft is primarily known for the development and marketing of operating software, notably Windows.
Microsoft's headquarters are located in Washington, United States. The company, established in the vast majority of countries around the world, has more than 150,000 employees.
According to NetMarketShare.com, Microsoft has almost 87% of the global operating software market share.
Suffice to say that most computer workstations for individuals and professionals are equipped with Windows operating systems. Mac comes in second with around 10% of the global operating software market share. Linux owns the rest.
Microsoft has significant competitive advantages, both technological and business. To maintain its leadership position, the company allocated a sales and marketing budget of $ 19.60 billion for 2020, or 13.70% of its global revenue, as well as $ 19.27 billion in R&D (Research and Development), i.e. 13.47% of its 2020 turnover.
This competitive advantage is so important that with regard to antitrust laws, Microsoft has had to manage two major trials in its history: one in 1998 by the US Department of Justice and one in 2008 by the European Commission.
Diversification of Microsoft's offer: cloud computing, big data and artificial intelligence
Microsoft's business model is constantly evolving, offering more service offerings, especially those related to the Cloud. For its fiscal year 2020, the market share of the "Intelligent Cloud" generated 48.37 billion dollars in revenue, or 33.82% of the group's revenue. This is an increase of + 24% compared to the "Intelligent Cloud" turnover for 2019, established at $ 38.99 billion.
Simply put, Cloud Computing provides data storage and program access services over the Internet, freeing up resources for users.
The Productivity and Business Processes segment generated $ 46.4 billion in revenue in 2020 and the More Personnal Compunting segment (personal sales) generated $ 48.25 billion.
Another advantage of Microsoft is its positioning in new computer and software technologies such as, for example, innovations in artificial intelligence, quantum computing or even big data .
In its press release dated July 21, 2020, Microsoft announced its commitment alongside 8 major international groups to the "Transform to Net Zero" project.
It is a common ambition to achieve non-polluting, emission-free business models by 2050.
In mid-June 2020, the American research institute John Hopkins signed a collaborative contract with Microsoft Azure for a period of 5 years. A globally recognized university, the Johns Hopkins research centers use the Cloud, AI (Artificial Intelligence) and the power of Azure to optimize their analytical tools and their medical research expertise.
In mid-May 2020, Microsoft announced a partnership with Sony in the sector of smart cameras coupled with Azure IoT Cloud and AI solutions. The applications of these new smart cameras are concrete, such as the detection of danger zones in workshops, or even in shops for optimizing queues, in warehouses for product management, etc.
In addition, these cameras being quite "greedy" in data, they require substantial storage spaces. This is where Azure Cloud solutions come in particular.
MICROSOFT PRODUCTS AND SERVICES
Software: Windows 10, Office 365, Skype and One Drive

Microsoft's core business is the creation and marketing of operating systems and office suites.
Windows 10 is the current version of the popular Microsoft operating system.
Office suite offers office software Word, Excel, PowerPoint, Outlook, Access, Exchange and Onedrive.
Skype is a utility for live communication between people, instant messaging and live video via webcam.
Cloud: Azure, Microsoft Dynamics 365

Microsoft offers Cloud Computing services through Azure. These services allow the storage and processing of data and software on local or remote servers (data centers), thus freeing up computing power for individual workstations.
Internet: Bing search engine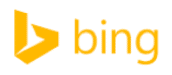 The "Bing" search engine is owned by the Microsoft company. However, its market share is limited against the Google search engine.
Entertainment: video game

Microsoft has a video games branch. The company is a publisher of Xbox and PC games.
Revenues related to the segment "Gaming" Microsoft is up + 10% for the 1 st quarter 2019, catalyzed by the Xbox branch.
Developer Tools: Visual Studio

Microsoft®.NET Framework provides developers with a consistent environment with a wide variety of common Windows and web applications.
Visual Studio is a comprehensive set of development tools for building web applications ASP.NET , XML web services, desktop applications, and mobile applications.
Computer and tablet: Microsoft Surface
Surface Laptop 3 is available in two sizes 13.5 and 15 inches, weighing 1265 grams. The Surface laptop 3 PC integrates latest generation Intel i5 or i7 processors (for 13.5-inch models) and AMD Ryzen 5 or 7 processors (for 15-inch models). The screens have high resolutions of between 2256 x 1504 and 2496 x 1664 pixels coupled with Intel Iris or Radeon Vega graphics cards. Storage is provided by 128, 256 or 512 GB SSDs.
Surface Pro 7 incorporates the latest generation components for a featherweight starting from 771 grams.
Microsoft Surface Pro, Surface Laptop, Go, Studio, and Book computers stand out for their quality.
MICROSOFT STOCK: FINANCIAL ANALYSIS OF THE IT GIANT
With revenue of $ 143.02 billion and net income of $ 44.28 billion for its fiscal year ended June 30, 2020, Microsoft achieves 2020 EPS (Earnings Per Share) of 5.82 $.
The company pays its dividend quarterly, which has been rising steadily since 2010.
Microsoft dividends
Evolution of the Microsoft dividend since 2010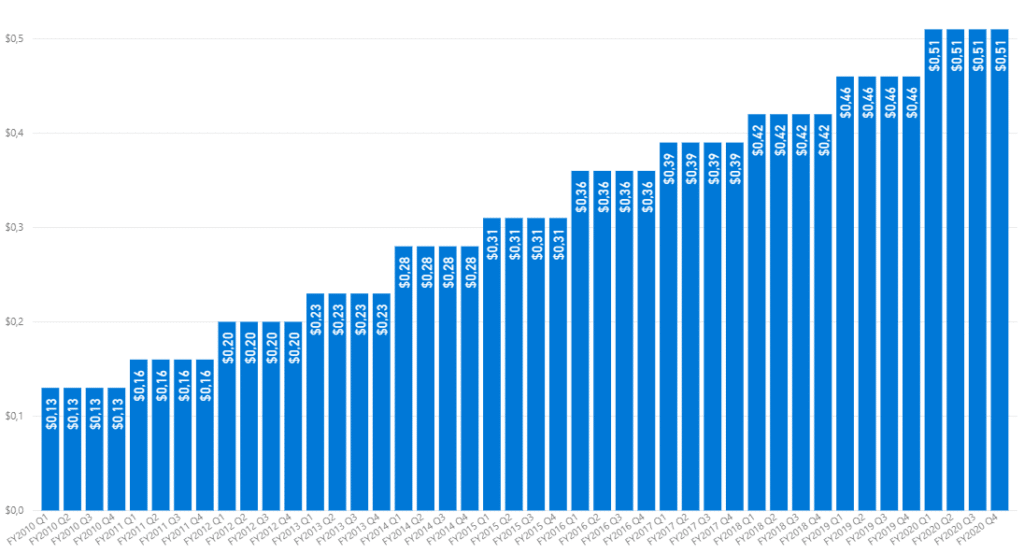 $ 2.04 per share was paid to shareholders during fiscal year 2020 in 4 quarterly installments, representing a 1% return on Microsoft's current stock price of $ 202.54 as of July 23, 2020. This dividend yield is relatively low.
In its latest annual balance sheet ended June 30, 2020, Microsoft has total assets of $ 301.31 billion and equity of $ 118.30 billion, or $ 15.54 per share.
Microsoft's short and long-term debt stands at $ 63.33 billion, or a debt-to-equity ratio of 53.53%.
Microsoft has the following ratios at its current market price of $ 202.54:
an EPS 2020 $ 5.82 representing a profit profitability of 2.87%;
a 2020 dividend of $ 2.04, or a yield of 1%;
equity per share of $ 15.54, more than 13 times lower than its current market price;
a moderate financial debt to equity ratio of 53.53%.
According to these ratios, Microsoft is therefore unattractive at the current market price of $ 371, especially for the value investor (in value), in particular because of its balance sheet overvaluation ($ 118.30 billion in capital equity against a market capitalization of $ 1,536 billion).
However, from an efficiency point of view, Microsoft is used to very good profit margins (30.96% in 2020). This ratio is obtained by dividing the net profit by the turnover, which is exceptional for a company of this size.
Microsoft therefore achieves significant profits because when the company achieves $ 100 in sales, it has $ 30.96 in net profit, which is still a remarkable performance for such a multinational.
In contrast, the current valuation of $ 202.54 per share, or $ 1,536 billion in market capitalization appears high, as indicated by the financial ratios above.
An investor currently wishing to buy Microsoft shares taking into account a dividend trend equal to that of the last ten years, i.e. a multiplication by 3.92 (from $ 0.52 per share in 2010 to $ 2.04 in 2020 ), could therefore be based on an estimate of a projected dividend of $ 7.99 per share in 2030, or "only" 3.94% return over the current Microsoft acquisition price of $ 202.54, and this despite 10 years of detention.
STOCK MARKET: EVOLUTION OF THE MICROSOFT SHARE AND PRICE
Microsoft stock chart since 2007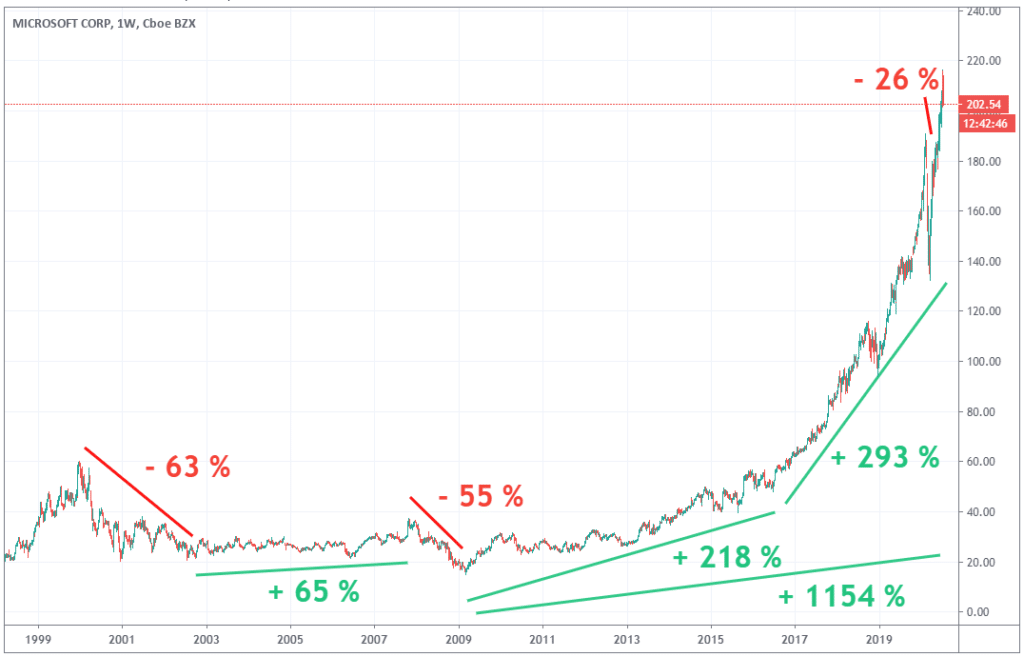 The evolution of the Microsoft share price over the past 20 years consists of three fairly marked downward trends:
December 1999 to September 2002 with – 63%;
December 2007 to February 2009 with – 55%;
More recently, between mid-February 2020 to mid-March 2020 with – 26%.
As for the bullish phases, the investor in Microsoft shares would have had the opportunity to increase the value of his investment several times:
September 2002 to December 2007 with + 65%;
March 2009 to June 2016 with + 218%;
June 2016 to July 2020 with + 293%
Microsoft's stock price increased almost 12-fold between June 2009 and its current price above $ 202. This price level is also close to its all-time high reached on July 9, 2020 at more than $ 214.
SHOULD WE INVEST IN MICROSOFT?
Microsoft is the fastest growing company in the world since it was founded in 1975 by Bill Gates and his partner Paul Allen. It is the international benchmark in the creation of operating software with almost 87% of the market share.
In recent years, the group has intensified its activity in services, in particular Cloud computing, which currently represents more than 33% of its overall turnover.
Microsoft has a good position on the challenges of tomorrow: market share growth in Cloud, artificial intelligence, Big Data, as well as in many areas of software and IT.
Other strengths of the group: its profit margin on turnover of almost 31% and its share price which has multiplied by almost 12 since the end of the 2008 crisis.
Microsoft's weak spot, in our view, is its current market valuation of $ 1.536 billion for a share price of $ 202. The company therefore displays a low dividend yield ratio (1%), a significant premium on its equity, as well as a high PER of 34.8 (the PER indicates the number of years required for EPS, Earnings per Share, to amortize the price of a share).