13 January 2022
How To Repurpose Your Content For a Blog Traffic.
As a blogger creating content in only text format will not fetch good results for your blog, if you want to reach more audience and improve your brand reputation then repurposing your content in different formats will fetch good amount of results to your blog.
What is repurposing the content?
Converting your text content into different popular content formats is called repurposing.
Why repurposing is important?
We know people are different in nature, someone likes to read, someone likes to watch, someone like to hear, our single format content will not cater different kinds of people around the world.
It's our duty to cater all people's needs by making our single content into different formats to reach more audience; this is also called as repurposing the content.
Most of the bloggers are not concentrating on repurposing the content on different formats, because it needs a lot of patience and technical knowledge in those formats, but trying to repurposing in our known formats is better to fetch good results from our hard work we are putting in a single article.
If you check expert bloggers like
• Mr. Neil Patel (quicksprout.com)
• Mrs. Kim Roach(buzzblogger.com)
• Mr. Pat Flynn (smartpassiveincome.com)
All these bloggers are creating content more than two different content formats to reach more audiences.
Neil Patel focuses more on Infographics to reach more audience and to get more backlinks to his blog.
Kim Roach focuses more on Podcast to cater her audience.
Pat Flynn concentrates more on YouTube Videos, Podcasts to cater all his audiences, and he gets more traffic to his blog from YouTube and Podcast sites.
So I recommend all the bloggers to concentrate creating your content in more than two content formats, based on your comfortable level on those formats.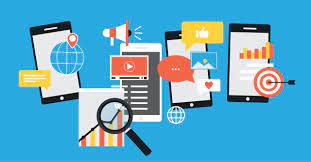 Today I am going to share how to repurpose your content in different formats and available tools to simplify the process.
HOW TO REPURPOSE YOUR CONTENT?
Here are some of the most popular content formats
• Videos
• Infographics
• Slideshare
• Podcasts
• Ebooks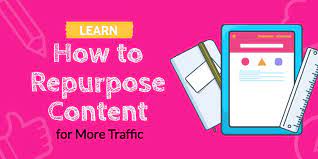 VIDEOS
Videos are popular these days and YouTube has become second largest search engine after Google Search, but creating videos require some tools to record videos or you can use your available resources to record videos by taking some precautions in video quality.
Now everyone has got a smartphone which has decent quality video cameras in it, we can record short videos by taking care of the audio and lighting with the help of smartphones, initial recording will take time to record videos but once you habituated to make videos it will become simple to create more videos.
If you are not prepared to face the camera, then you can make explanatory videos using your computer screen with the help of screen recording extensions on chrome browser.
These videos really help to reach more audience around the world, and the competition is also very less compare text format.
Infographics
If you are interested in designing, then infographics are the best source to repurpose our content, but making infographics needs a lot of patience and creativity.
We have some online tools which can allow us to create infographics with pre-installed templates and images if we can spend some time then we can easily make some decent looking infographic for our content.
If you don't have the time and you want to repurpose your content into infographics then we can outsource our work on Fiverr and Freelance switch.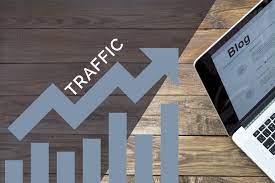 Infographics are the best sources to get high-quality backlinks to our blog.
SlideShare
Slides are very important for presentations, a lot of people are searching for the slides online to get ready-made slides for their presentation, and some people really love to consume the content in the form of slides because they don't want to spend much time on unnecessary information, they want bullet points and straight and short information.
SlideShare is the best online platform to promote our content slides, and it has a huge collection of slides to cater their users, it has a strong user community and sends a lot of traffic to your blog.
SlideShare even allows you to make slides within their website with pre-installed templates which allow you to customize those themes based on your requirement.
PodCast
Podcasts are getting popular around the world; podcasts are audio files in MP3 format which allows users to download and listen to the files in their mobile phones, tablets and even in computers.
Creating audio files in MP3 with good sound quality is possible through Audacity software which is available for free on Mac and Windows.
A lot of professional podcasters are using Audacity to record their audio; along with Audacity all you need is an external microphone, computer and web hosting space to keep your audio files to download and RSS feed to submit your Podcasts to Podcast directories.
There are so many how-to articles are available online which tells you step by step guide about Podcasts.
Ebooks
Combining all your related articles and making some changes to the articles by linking with each other will allow you to make an Ebook.
We can use this Ebook to get traffic from a kindle, or we can even offer this Ebook to our subscribers as freebie.
Conclusion: I hope this article has cleared all your doubts about How To Repurpose Content and the popular repurposing formats which allows you to reach more audience, kindly add your suggestions and your experiences in repurposing content in comments which can help other readers.